One Town's Struggle for Survival After the Great Alaska Earthquake
A historical non-fiction book by Tabitha Gregory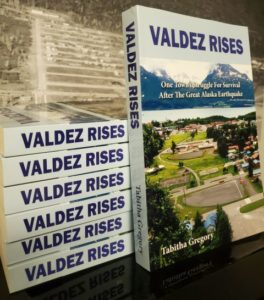 On March 27, 1964, the largest earthquake ever to strike North America devastated Alaska's coast. Valdez, a town of 500 people, lay at ground zero. Here, buildings crumbled, roads cracked open, and the entire waterfront collapsed into the ocean. Within days of the quake, officials decided they could not rebuild Valdez in situ—the site was unstable. Instead, the entire town would move.
The Valdez City Council rallied the town, oversaw the buy-out of Old Town homes, assigned new town lots, and coordinated with a sea of federal and state agencies to build roads, utilities, schools, parks, businesses and homes. Within just four years, the new town was built and every man, woman and child moved. The epic relocation was a success and positioned Valdez to win the Trans-Alaska Oil Pipeline Terminal.
The voices of residents and the town's sequence of mayors and city council members enrich the unvarnished story and reveal the community's tenacity and resilience. Their voices also reveal the pervasive challenges of grief, fear, conflict and uncertainty.
Today, communities across the globe face rising sea levels while others are destroyed by an increasing number of severe natural disasters. These towns are being forced to relocate and rebuild. For these communities, their residents, and leaders, the Valdez experience offers a message of hope.
Published by: Sapphire Mountain Books, Spokane, WA
Copyright © 2021 Tabitha Gregory. No part of this book may be transmitted or reproduced in any form, including photocopying, information storage or retrieval systems, electronic or mechanical, without the written permission of the author/publisher. The unauthorized reproduction or distribution of this copyrighted work is illegal.
Accolades for Valdez Rises
"Gregory nails her stated goal of explaining why Valdez looks the way it does. Along the way, she gives readers a glimpse of life in a small Alaska city…The book is a fascinating account of a town rebuilt with modern urban planning but a loss of turn-of-the-century charm and its pioneer heritage."
Daniel Joling, Review for Alaska History, Vol. 37, No. 2, Fall 2022.
"There are at least twelve communities in Alaska that need to be relocated. I think it would be helpful for them to read this book and understand the dynamics of a move. It's expensive not just from a cost standpoint, but also there's an emotional expense. I would recommend the book for communities making a move so they can see what Valdez went through and the decision-making processes. It's expensive in more ways than one." 
Former Alaska Governor Bill Walker
"Valdez Rises should appeal to anyone interested in the community of Valdez and its people, local history, planned communities, and the functioning of communities following disasters."
"Nearly 60 years after the events, she's produced a definitive and readable text that's also instructive for our present time."
Nancy Lord, Review for the Anchorage Daily News, October 16, 2021
"She brings to the book both a deep knowledge of the town's history and the perspective of someone who knows how the move affected the town's identity."
"As Gregory notes, the story is especially relevant today: An increasing number of communities are undergoing relocation because their old locations are being threatened by the impacts of climate change. Contemporary relevance aside, the story is one that's worth knowing for anyone who loves Valdez."
Alexander Deedy, Alaska Magazine, March 3, 2022
"Your research, writing and book have shed new light on Valdez's story and citizenry and made our local history even more fascinating. I loved learning about Helen Long and Ethel Rhoden and their significant contributions to the town's efforts to navigate difficult times, transition and ultimately thrive. Thank you for bringing their stories to life."
Faith Revell, Curator of Education & Public Programs, Valdez Museum.
"It is a walk down memory lane…some good; some really hard things to recollect….and the names of so many people I had forgotten all about."
Johanna Applegate
"Valdez Rises: One Town's Struggle for Survival After the Great Alaska Earthquake is both well-researched and quite readable. Filled with first person narratives and letters, it brings the people who survived the tragic 1964 earthquake in Valdez to life. These people include strong women."
Allison Sayer, Review for Copper River Record, November 19, 2021
ABOUT the AUTHOR
Tabitha Gregory holds a B.S. in Natural Resource Management from the University of Alaska, Fairbanks and an MBA from Colorado State University. She was born and raised in southeastern Alaska, and lived in Valdez for 22 years. There, she served as Executive Director of the Valdez Museum & Historical Archive Association and worked for Copper Valley Telephone Cooperative. Tabitha currently lives and writes in Spokane, Washington.